"Computer says no"
Living in the Age of Autonomous Decision Machines
9 juni - Spant! - Bussum
Agenda
| tijd | omschrijving |
| --- | --- |
| 09:30 | Kick Off Menno van Doorn, directeur VINT |
| | Sander Duivestein, trendwatcher VINT |
| | Pieter Jonker, Hoogleraar Vision Based Robotics, TU Delft, "Lerende Robots" |
| | Maurits Kaptein, ass. Professor Kunstmatige Intelligentie, Radboud Universiteit, "Digitale verleiding" |
| 11:00 | Pauze |
| 11:30 | Gerard Doll, CIO RDW, "Consequenties van intelligent vervoer" |
| | Roel Steenbergen, Innovatiemanager Rabobank, "Watson bij de Rabobank" |
| | John van der Wens en Mark Boog, "Poetry in Motion" |
| 12:30 | Lunch |
| 13:30 | Hella Hueck, Journaliste RTL Z, "De economie van overmorgen" |
| | Kees Stuurman, Hoogleraar normering van Informatietechnologie, Universiteit van Tilburg, "Juridische aspecten van autonome software" |
| | Sander Veenhof, kunstenaar, "De virtuele wereld breekt door" |
| 15:00 | Pauze |
| 15:30 | Mike Hearn, Bitcoin developer en futurist, "Tradenet: De toekomst van autonome organisaties" |
| | Luciano Floridi, Hoogleraar Filosofie en Ethiek, Oxford University, "Digitale Ethiek" |
| 16:45 | Afsluiting |
| 17:00 | Borrel |
| 17:30 | Einde |
Kick Off
Menno van Doorn, directeur VINT Sander Duivestein, trendwatcher VINT
Book: The Utopia of Rules "On the phenomenon of bullshit jobs"
SMACT, Social, Media, Analytics, Cloud, Things
"Software is eating the world"
"Accelerated change is the only constant"
"The future is decentralized"
"Power to the people"
Book: The second machine age Erik Brynjofsson & Andy McAfee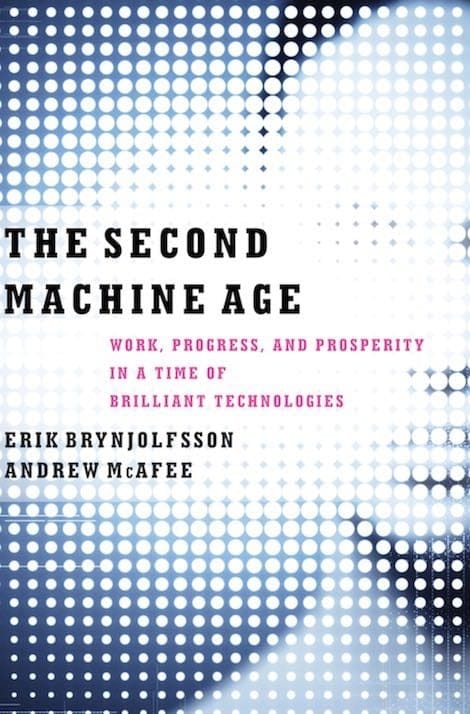 "47 procent of all jobs will be automated by 2034"
---
Lerende Robots
Zorgrobotica in opkomst
Pieter Jonker, Hoogleraar Vision Based Robotics, TU Delft
Robotics for Health Care in the NL:
Cure (hospitals)
Rehabilitation (after strokes, lesions, …)
Institutional care (elderly homes)
Home Care (living longer autonomously at home)
Soft Robotica: robothand uit 3d printer, harde en zachte materialen gebruikt, aangestuurd door Arduino
Valdetectie en lifestyle monitoring
Robot Care Systems, Maja … Volgend jaar op de markt
Cognitive Learning, baby voelt en leert objecten waarnemen en grijpen
Patroonherkenning
Reinforcement Learning
Dull, Dirty and Dangerous jobs will disappear. The three D-jobs.
Propositions / philosophical issues
Cognitive Robotics will penetrate our lives
New is the learning capability, beware!
This brings the troubles along of bad teachers, bad youth, personality disorders, …
Grotere robots moeten leren lopen, vergelijkbaar met oudere mensen zijn deze breekbaarder. Note: ik denk dat dit tijdelijk is.
---
Digitale verleiding
Maurits Kaptein, ass. Professor Kunstmatige Intelligentie, Radboud Universiteit
Autoriteit of eerdere keuzes beïnvloeden je keuze. Voorbeeld: 4 foute antwoorden terwijl je zelf het goede antwoord weet. Je bent geneigd om je antwoord te herzien.
Beïnvloedingsprofielen (Persuasion profiles). Schaarste, autoriteit, …. Niet iedereen is op dezelfde manier te beïnvloeden. Voor een Booking.com is het dus van belang om het profiel van de gebruiker op te slaan (gebaseerd op bv eerder aankopen) en te gebruiken om de "koper" te verleiden tot aankopen.
Extrovert, meer tekst. Introvert, meer plaatjes
Privacy maatregel: ruis toevoegen om ervoor te zorgen dat individuen niet herkend te worden.
---
Consequenties van intelligent vervoer
Gerard Doll, CIO RDW
Databases:
10 miljoen rijbewijzen
10 miljoen kentekens
Zelfrijdende auto's, ITS
Ethische Dilemma's? Zelfrijdende auto's moeten leren wie ze liever dood willen rijden …
Met de introductie van een zelfrijdende auto is er een waarschijnlijkheid dat in de niet al te verre toekomst er geen noodzaak meer is voor een kentekenregister en rijbewijs-register. Voor de RDW is dit dus een disruptieve innovatie.
RDW is ook met de OBD plug bezig.
Tesla is ook disruptive, autokeuring is "waardeloos". Na een software update kan het een heel andere auto zijn.
Remote Document Authentication (RDA)
NFC
geen megalomaan project
hergebruik bestaande middelen
RDW: Gevoelige data vs Ongevoelige data
Your privacy is gone but in return you have more security and convenience.
IT gaat veranderen, analyse, sociologie en psychologie gaan een grotere rol spelen.
Cultuurverandering binnen RDW:
Nieuw team, nieuwe mensen want diegene die het probleem gecreëerd hebben zijn onderdeel van het probleem geworden.
Refererend aan Albert Einstein:

"We cannot solve problems by using the same kind of thinking we used when we were creating them"
---
Watson bij de Rabobank
Artificial Intelligence - advisors best friend?
Roel Steenbergen, Innovatiemanager Rabobank
Ieder jaar wordt een trendlijst gemaakt, voor dit jaar blokchain en kunstmatige intelligentie (AI) op één en twee.
"High tech and Human touch" Actuele data + Empathie = Lange Termijn relatie
AI bij de bank:
Sociaal (misschien),
Cognitief (zeer positief),
Fysiek (onwaarschijnlijk)
Take aways:
Think big, start small
Maak z.s.m. een eigen use-case
We staan pas aan het begin…
Het is geen magie, je hebt nog steeds goede mensen nodig
---
Poetry in Motion
John van der Wens en Mark Boog
Tijd, lokatie, weer worden als input gebruikt voor de poëzie.
Genereren geeft ongewenste resultaten. Dus geschreven poëzie!
www.poetryinmotion.nl/dichtbij
Foto van de omgeving en vervolgens het gedicht erbij. Uiteindelijk is het een poëzie generator.
Externe data als input voor het gedicht, ook de Nationale Buitenspeeldag is van invloed of externe nieuwsbronnen.
Cordova app
---
De economie van overmorgen
Hella Hueck, Journaliste RTL Z
100 jaar geleden: "Verhoogen automaten de werkloosheid?"
The central question of 2025 will be: What are people for in a world that does not need their labor, and where only a minority are needed to guide the bot-based economy?
Stowe Boyd, Lead Researcher at GigaOM Research
AI, Robotics, and the Future of Jobs
Chronocentrisme is van alle tijden!
Soorten robots:
Industriële robots
Service robots
Kunstmatige Intelligentie
Nederland is een dienste land (Gelukkig maar …)
Sophia, staal programma. Online bobcat onderdelen bestellen.
De wet van Went: "Dat iets kan wil niet zeggen dat iets gebeurt."
DARPA robot race, filmpje met vallende robots
Programmeren is niet het belangrijkste…
"Open letter on the digital economy", o.a. Erik Brynjofsson & Andy McAfee - second machine age
Beter overheidsbeleid * Focus op infrastructuur, ondernemerschap, meer R&D
Business leaders moeten voortouw nemen * "Inclusive prosperity"
Beter onderzoek naar de nieuwe economie * BBP is niet meer geschikt om welvaart te meten
---
Juridische aspecten van autonome software
Kees Stuurman, Hoogleraar normering van Informatietechnologie, Universiteit van Tilburg
AS = Autonome Systemen
Juridische aspecten AS:
Kan een autonoom systeem rechtsgeldig contracteren?
Wie is rechthebbende op creaties die met behulp AS worden gemaakt?
Wie is verantwoordelijk/aansprakelijk voor schade als gevolg van AS?
Kan een AS onrechtmatig handelen of een strafbaar feit plegen?
Bestaat er een basisrecht op gebruik van AS? ('robotic divide')
Aan welke basiseisen dienen AS toepassingen te voldoen?
(…)
AS wetten van Asimov (1942):
A robot may not injure a human being or, through inaction, allow a human being to come to harm.
A robot must obey the orders given to it by human beings, except where such orders would conflict with the First Law.
A robot must protect its own existence as long as such protection does not conflict with the First or Second Laws.
Vehicle to Road communication, V2R
De zelfrijdende auto: juridisch:
Toelating op de weg (technisch, voor welke gebruikers, …)
Veiligheidseisen
Wie is aansprakelijk? Rol van verzekering?
Weggebruik; certificering?
Data beveiliging (privacy, cyber crime, …)
Impact op parkeerbeleid
Impact op handhaving
"De overheid zal een oplossing moeten vinden voor het verlies aan opbrengsten door boetes"
Focus: AS & Aansprakelijkheid:
Traditioneel: IT leidt tot zuivere financiële schade (verlies data, omzet, reputatie, …)
Nieuw: mogelijkheid schade aan "iets of iemand" 1. AS: wie aanspreken? _ Producent? Dealer? Gebruiker? Eigenaar? Verzekeraar? (…)? 2. Informatieplichten. Kan de leverancier de eigenschappen en beperkingen van complexe systemen aan de gemiddelde (weg)gebruiker uitleggen? 3. Normverschuiving t.g.v. AS? _ Wordt (meer) perfectie de norm?
Reguleren van AS:
Reguleren van AS ontwerp, productie en gebruik met behulp van het recht
Reguleren van het gedrag van gebruikers door middel van het ontwerp
Reguleren van het gedrag van AS door middel van code
"If a child steps out at 10 feet, the human kills the child, the automated car doesn't." "At 8 feet, either one will kill the child."
"We accept humans to be faulty, but we don't accept machines killing human beings."
(Michael Toscano, head of the Association for Unmanned Vehicles International)
AS en Recht:
Veel en complexe vrage
Wat zal de norm zijn?
"Safety by design"
Transparantie en verantwoordelijkheid als belangrijke thema's
AS vereist vertrouwen
---
De virtuele wereld breekt door
Sander Veenhof, kunstenaar
AR kunst in het MoMa
AR, AR meeste gebaseerd op Layar
OData van de locatie van beveiligings cameras, 30 gb
App met social media info over bepaalde horeca en andere hotspots, kan dat?
VR4Two cyborgdating.com
Note: Google cardboard glass combineren met Layar om goedkope AR ervaring te creëren.
---
Tradenet: De toekomst van autonome organisaties
Mike Hearn, Bitcoin developer en futurist
Former Google employee
Robot Taxis
Autonomous phones ordering stuff. If used it's paid otherwise it's picked up like it's delivered, by a drone
Capitalism 2.0:
Annie's taxi has no owner
Finds and trade with humans as equals on the TradeNet
Hires humans for repairs or upgrades. Resist hacking attempt
Sets own prices. Can make profits and losses.
These sort of programs are called: Agents
Agents owe a debt to BitCoins in another way …
Agents only became possible due to Bitcoin and the block chain.
Banks cannot offer bank accounts to robots.
Anti-money laundering laws require accounts to be owned by humans.
The first Agent was a software only agent.
TradeNet:
Infrastructure, not product! Provides: _ Reverse eBay: publish requests and collect bids _ Unifies human/machine naming _ Quality control _ Standardised digital contracts and business protocols e.g. taxis, shipping ports, 3D printer fabs, drone deliveries * Remote attestation is fundamental
Darwin at work:
First Agents were fragile
easily killed by human scammers/hackers
robots have no legal rights until 2048
Open Source Corporations
SendMate: first open source company built in 2030, secure private email
Employed humans but no CEO:management entirely automated
Source code fully published. Anyone can modify business methods, procedures and products
Owning a company comes with responsibilities, in the future many companies will not be owned by people but will be autonomous.
---
AI's Impact on Human Life: Sci-Fi vs. Reality
Luciano Floridi, Hoogleraar Filosofie en Ethiek, Oxford University
… he was making twenty tripods that were to stand by the walls of his house, and he set wheels of gold under them all, that they might go of their own selves to the assemblies of the gods, and come back again, marvels indeed to see.
Watch out for AIZilla!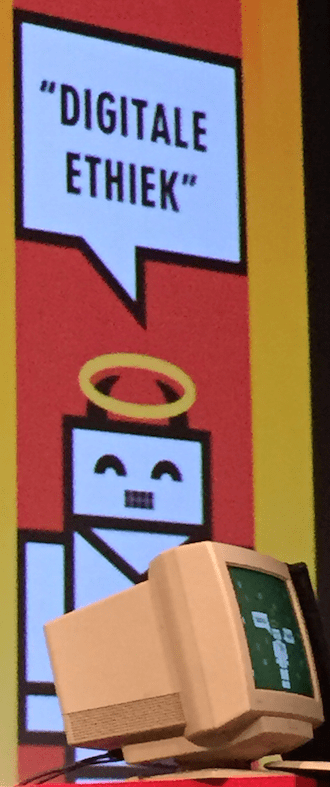 Turing-test is flawed. Would you buy a machine that only works 70% of the time for 5 minutes.
Data makes the big difference, not the intelligence!
Replaceable agency
Intelligent Quotient is bell-shape. Left-hand side jobs are in danger. Note: I'm not sure about this. Regular plumbers are also on the left side.
Predictions, predictions predictions, …
Predictable Freedom
Influential Autonomy Worldwide programmatic advertising will grow lineair
Dependant Delegation
What kind of infosphere do we want to create?
Think deeper, Design better, Be mindful.
---