Recently I read a post on slimming down your wallet (via Lifehacker). As many of you I had my wallet filed with membership and other reward cards from the local hardware store the grocery shop and the rest of it. Some cards used regularly some used only once a year.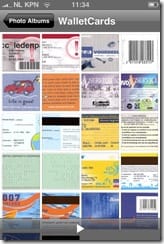 As mentioned in the post from the unclutterer most of the companies only need the number from the card. The magnetic strips are hardly used and the barcode is just a store for the number. So instead of writing down the numbers I scanned in the cards -front and back side- and stored them as images on my iPhone.
To test it out I went to the local hardware store and asked the girl behind the counter if she could scan the barcode from my phone. The first look I got was pure amazement. To her the physical card was transformed into a picture on a shiny device. On top of that the barcode was scanned successfully. The result; a slightly confused girl and a happy me.
The cards are stored as images in an iPhoto album that is synced with my iPhone through iTunes. Newly scanned cards are stored in the album and are automatically synced. When asked for the card I pull out my phone and open the "card" in full screen mode.
For iPhone Touch the same routine should work and it probably also works for an iPod with photo capabilities.
In my case I used my Mac to sync but this should also work on a Windows situation.  
Note: This post was picked up by lifehacker.com and went viral.
---